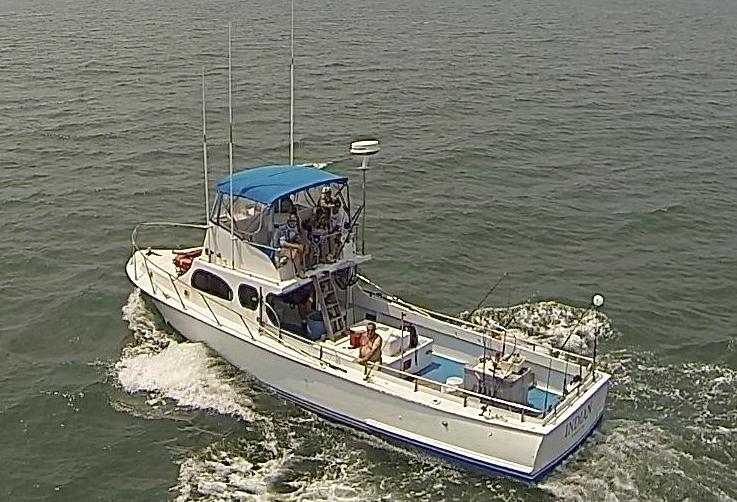 Docked at Anglers Fishing Center Lewes, DE
213 Anglers Rd Lewes, DE 19958
Anglers Marina, Lewes Harbor Delaware
Dock - (302) 644-4533 Cell - (302) 745-5576
US Coast Guard Certified
For up to 15 passengers
Equipped with radar, fish finder, loran
and gps plotter, cabin with head.
Ideal for larger groups
40 foot -  18 foot beam - Parks Bay Built


 

Fishing Trips And Rates
Ocean & Delaware Bay Fishing and Spring, Summer and Fall
6 Hours - $550 for 6, $45 each person over 6
6 Hours  8:00 - 2:00 or 2:30 - 8:30
8 Hours - $750 for 6, $50 each person over 6
8 Hours  6:00 - 2:00 or 2:30 - 10:30
15 Maximum Number of People June 1 - Sept 30
10 People Maximum - Oct 1 - May 30

$50 fuel surcharge for 12 miles and over
---
Half Day Fishing Trips
6 persons $450
$45 for each person over 6
5 hour trip
8:00-1:00, 9:00-2:00, 2:30-7:30

---
Economy Family Fishing Charter
3 hours $375 for 10 people
$30 per person over 10
Maximum 15 people
"Great for Kids"

---
Inshore Combination
Game Shark and Bottom Fishing
6h- $650 for 6 people
$50 per person over 6, Max 10
Includes Everything
---
Thresher Shark Fishing
10h- $1,030 for up to 8 people
Everything included
---
Taug
Up to 6 persons $750
Maximum 8 people
Bait is supplied
Tackle is supplied for $70 extra
6 am to 2 pm or 7 am to 3 pm
($50.00 fuel surcharge on long trips)
---
Drum Fishing Charters May 1- June 10


6 persons $750
$50 for each person over 6 up to 10
4 pm- 12 am

---
We suggest you bring the following to insure an enjoyable rip.
NO GLASS CONTAINERS
Food & Drinks
Sun Screen & Sun Glasses
A Camera
Extra Clothing & Rain Gear
Dress suitable for the season!
Hand Towels
 We look forward to your visit!
Discount Given for Multiple Bookings
The Indian is also available for custom trips such as sightseeing, birdwatching, and special events for up to 18 people. Charges by the hour. Prices are subject to a 10% increase upon fuel cost for the season. 30 day cancellation notice required for refund of deposit.
Captain Ted Moulinier  Dock - (302) 644-4533  Cell - (302) 745-5576 This email address is being protected from spambots. You need JavaScript enabled to view it.">